PATH Certified Riding Instructors
After my daughter, Kathy, was kicked in the head by a horse in 1980 I helped start the 1st therapeutic horseback riding program in Marion County in 1983. I became a certified therapeutic riding and carriage driving instructor and started promoting therapeutic riding in our community. People needed to learn about the "miracles" that can happen to children and adults that live with disabilities after riding a horse. After seeing what riding did for my daughter, this became my #1 goal in life.
In 2007, I opened Stirrups 'n Strides Therapeutic Riding Center at Hi-Time Farm in Orange Lake. In the 9 years we have been in existence, we have grown to 15 horses, 3 arenas and over 100 clients. Therapeutic riding has become my 1st love; I want to help as many people as possible with disabilities to overcome their challenges in life. I sadly had to give up my training & show barn in order to continue to grow Stirrups 'n Strides, but this is now where my heart lies, and I have a very special daughter that gives me the strength to continue on this wondrous path that helps make miracles happen.
---
---
Debbie was born in Orlando, FL and grew up in Grenada, MS.  She had horses as a teenager and young adult.  Debbie moved back to Florida after the passing of her mother in 1999.  Debbie started volunteering in 2010 as a side walker where she quickly fell in love with the program.  Betty encouraged her to help teach the class with her and soon she talked to her about becoming one of the next instructors.  With the help of Betty and Stacey Spence, Debbie learned to ride English.  In 2013, she became an instructor and has come to love being at Stirrups 'n Strides.  "To see the change in the riders right before your eyes is more rewarding than I can say.  I encourage anyone to come and volunteer and try it."
---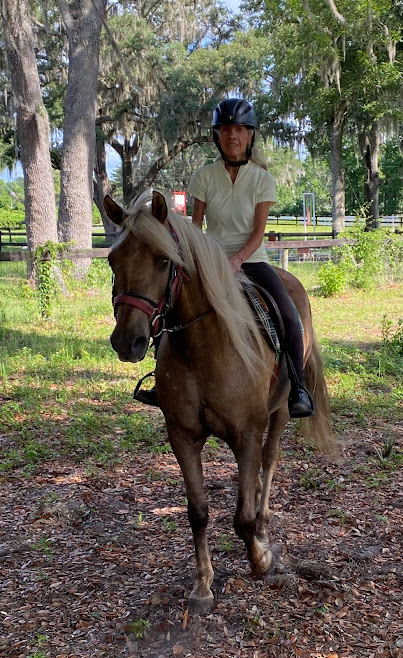 Laney grew up in Western Pennsylvania close by her grandparents' farm. Her first ride on a horse was on her grandfather's draft horse, Jack. She got her own pony at the age of 12. And so began her love of horses.
She earned a BSBA from University of Florida and an MBA from University of Tampa. She pursued a career in market research and development in the Tampa Bay area and Atlanta, before taking a three year break to travel solo around the world. Upon her return, she settled in San Francisco and worked in the customer service department for United Airlines for 15 years. Laney and her husband, Jim, have been married for 24 years. Bi-coastal for many years, they moved from California to Black Diamond Ranch in Lecanto, FL full time 10 years ago.
Along with a love of horses and equine assisted therapy, Laney is also an avid golfer, an interest she shares with her husband Jim. She is on the course rating team for Florida State Golf Association as well as the rating panel for Golfweek Magazine.
Laney began volunteering at Stirrups 'n Strides in 2010 once they settled in Lecanto. She has been an enthusiastic volunteer at many equestrian competitions such as eventing, dressage and combined driving events. Laney joined the Board of Directors in June, 2013. In March, 2015, Laney became a PATH Certified Therapeutic Riding Instructor.
"Knowing the effectiveness of the program at Stirrups 'n Strides, participating on the Board presents an opportunity to help grow the program and assure its future sustainability."
---
Certified Instructors: Chris Dove, Sonya Jones, Diane Mathieson
---
Stirrups 'n Strides offers mentoring opportunity for instructor certification!
Instructor in training: Brandi Lashinski, Lilly Stidham, Lindsey Palm