Vision – Empower, Enrich, and Inspire
Mission – To provide therapeutic horseback riding and carriage driving to individuals with physical, mental, or emotional challenges, and to improve their quality of life through the opportunity for emotional, educational, and physical growth through horsemanship and competition.
Values – Overcoming challenges & building relationships in a safe environment & making it all fun!
At 3 years old, Kathy was kicked in the head by a horse! Doctors said she had a 50% chance of survival and didn't know if she would ever walk again. Before she could even sit up again, Betty Gray had her on a horse. As time progressed Kathy was able to gain strength, coordination and balance. Even though she is still having some paralysis on her left side, Kathy has been doing therapeutic horseback riding for over 40 years. Betty founded Stirrups 'n Strides Therapeutic Riding Center Inc. in 2007 with her late husband Wayne Gray. Kathy inspires all the riders at Stirrups 'n Strides by saying "if I can do it, you can do it." Kathy, is my miracle, says Betty her mother, and she inspires me every day.
Therapeutic Horseback riding is a powerful tool that can help people of all ages and backgrounds to heal, grow, and thrive. It offers a unique opportunity to connect with horses, learn from their natural instincts, and develop new skills and insights.
We believe that horses can help people heal in a variety of ways, including:
*Improving mental health: Therapeutic horseback riding can help people with anxiety, depression, PTSD, and other mental health issues.
*Improve physical health: Riding a horse can help improve balance, coordination,
strength, and flexibility. It can also help reduce pain and improve range of motion.
*Improve emotional health: Horses can provide a calming and therapeutic presence. They can help people learn to manage their emotions, build self-confidence, and
develop trust.
*Improve social skills: Riding horses can help people learn to interact with others in a
positive and supportive way. It can also help them develop social skills such as
communication, teamwork, and leadership.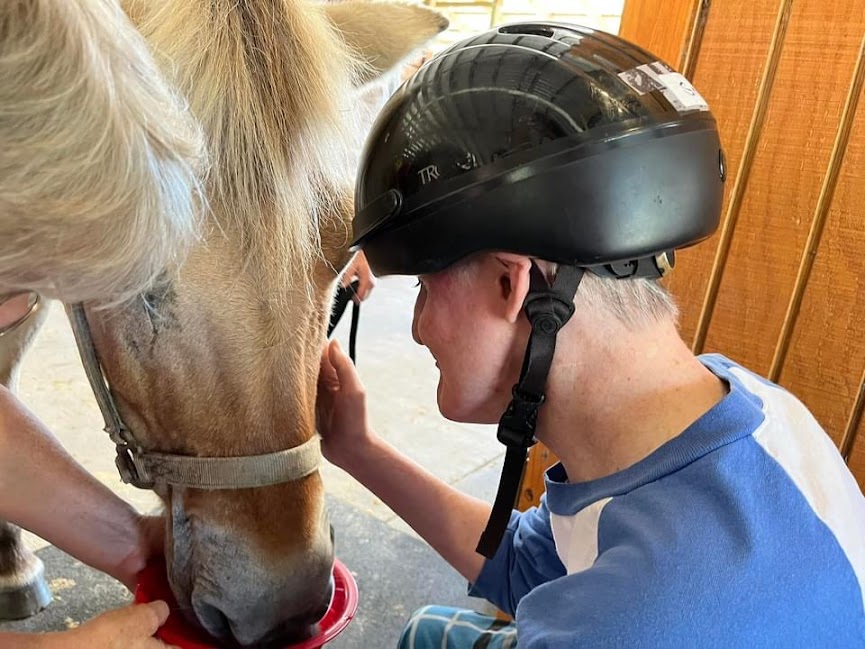 Together, we can empower, enrich, and inspire the lives of others through therapeutic horseback riding.
Here are some specific ways that you can take action:
*Volunteer your time. You can help to provide support.                                                            *Spread the word about the benefits of therapeutic horseback riding. Talk to your friends, family, and colleagues about your experiences.
*Donate to Stirrups 'n Strides Therapeutic Riding Center Inc. Your donation can help to support the work of therapeutic horseback riding centers and make this therapy more accessible to people in need.
Together, we can make a difference in the lives of others.