Donate Today!
Quail Roost Foundation for our wonderful, covered arena!
http://www.quailroostfoundation.org/
Our mission at Stirrups 'n Strides is to provide therapeutic horseback riding and carriage driving to individuals with physical, mental, or emotional challenges, and to improve their quality of life through the opportunity for emotional, educational, and physical growth through horsemanship and
competition.
Thank You, Sponsors.  You're the Best!
Your sponsorship enables us to make miracles happen!
______________________________________________________________
Sponsor a Rider!
Donate Now: Help Support Non-Profit Therapeutic Horseback riding!
Equine therapy is a proven way to improve physical, emotional, and cognitive health. It can help people with a wide range of disabilities, including autism, PTSD, and physical disabilities.
Non-profit equine therapy organizations rely on donations to provide their services. Your donation can make a difference in the lives of people who are struggling. Help a rider today!
One month is $160, 10 lessons is $400 and 6 months is $960! Our families truly appreciate all that our supporters do!
We appreciate any amount!
Please open the Sponsorship Form below to make your 100% tax-deductible donation to this 501(c)3 non-profit organization.
Thank you for your support!
______________________________________________________________
Don't forget to help us by shopping through iGive at your favorite stores.
Amazon donates 0.5% of the price of your eligible AmazonSmile purchases to us!
Click on the icon to the left to get shopping!
_____________________________________________________________
Sponsor A Horse!
Horse sponsorships help to support the expense for the care of our therapy horses. Sponsorships can be made in a business name, a family name, with a co-sponsor or even in memory or honor of a loved one. Pledges can be made monthly, quarterly (3 months), semi-annually (6 months), annually (1 year) or for any amount as a one time donation. Costs to care for a horse are listed below.  Any contribution is greatly appreciated! Thank you so very much for helping to keep these wonderful horses happy and healthy.
HORSE SPONSOR  $ – Any contribution toward horse care
HORSE SPONSOR  $200 – Pledge 1 Month of horse care
HORSE SPONSOR  $500 – Pledge 3 Months of horse care
HORSE SPONSOR  $1,000 – Pledge 6 Months of horse care
HORSE SPONSOR  $2,000 – Pledge 1 Year of horse care
View a brief background/photo of our therapy horses:
>Meet the Stirrups 'n Strides Herd
We invite you to come on out to Stirrups 'n Strides and meet these wonderful horses, as well. They love visitors! Call 352-427-3569 to schedule your visit.
Make your pledge today by using the downloadable pdf form >Sponsor A Horse – pdf 
Or online cash/check or PayPal: I'd like to > Sponsor A Horse-web form
We thank you and our therapy horses thank you for your generous contributions!
______________________________________________________________
---
Our Lovely Sponsers:
Presenting Sponsor: LipChip                                                                                   
It is time for technology to stop being the enemy of the horseman and instead become his saddle partner. It is time to let the innovations of today help the issues that have plagued our industry for generations. The future of equine microchipping is here, and the future is Lip Chip.
  1-325-212-2428
Catering Sponsor: Fiesta Pools of Ocala
Family owned and operated since 1960.                                                                                      352-622-8978                                                                                             https://www.fiestapoolsocala.net
Printing Sponsor: First Impressions Printing
You don't get a second chance to make a great first impression!
1847 SW 27th Ave, Ocala, FL                                                                                                         352-237-6141                                                                                                https://www.fipprinting.com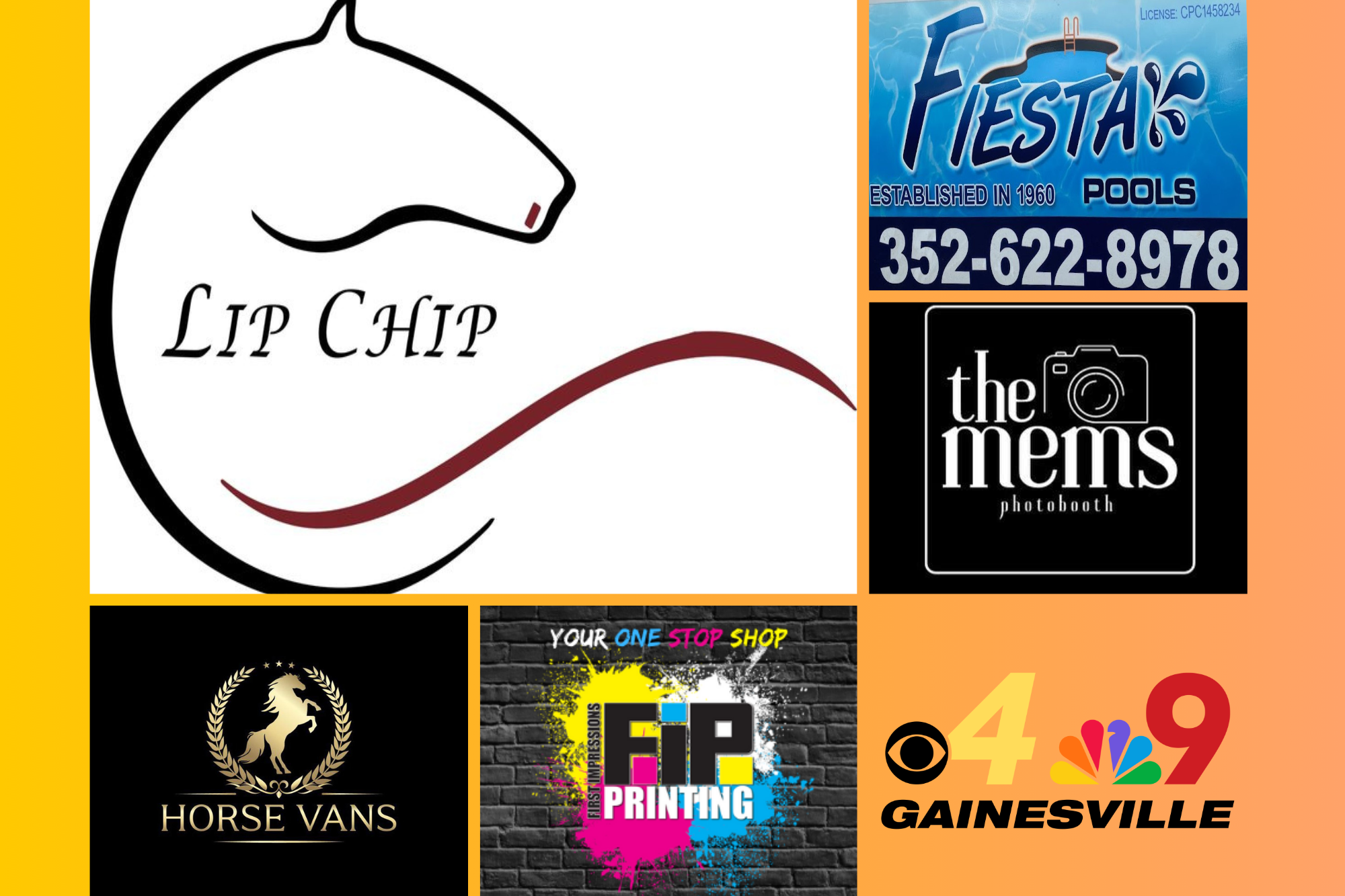 ---
Ocala Breeders' Feed & Supply
431 N.W. 27th Ave.
Ocala, Fl. 34475
For over 25 years OBS Feed & Supply has been dedicated to the production of the  highest quality of horse feed from their own feed mill in Ocala. They also carry top  quality hay, tack and all your horse supplies.
www.obfs.com
Seminole Feed Stores
225 NE Watula Ave.
Ocala, Fl. 34478
Provides world class premium horse feeds and equine nutrition solutions for your horse, produced from their own feed mill in Ocala.
www.seminolefeed.com
Newport Hay
101 SW 57th Ave
Ocala, FL  34474
(352)237-9797
Newport Hay is dedicated to providing the finest quality hay and feed products. We strive to offer competitive prices and excellent customer service in order to earn your business!
http://ocalanewporthay.com/ 
Ocala Equine Hospital
10855 N.W. US Hwy 27
Ocala, Fl. 34482
Established in 1997 and located in the heart of Marion County's horse country. One of the largest Veterinarian Clinics in the county.
www.ocalaequinehospital.com
Rodney "Boomer" Rowles, Equine Dentist
Phone: 352-502-6420
Ocala Sunset Rotary Club                                                                                                             
      352-291-2444                                                                                      https://ocalasunsetrotary.com                                                                    Fellowship. Mentorship. Partnership… Ocala Sunset Rotary Club is Ocala's only evening Rotary Club.
Berrettini Feed Specialists
13052 N US Highway 27
Ocala, FL 34482
Phone: 352-629-1447
http://www.berrettinifeedspecialists.com/
Florida Thoroughbred Farm Managers' Inc.
6998 N US Highway 27
Ocala, FL 34482
Phone: 352-401-3535
http://www.flfarmmanagers.com/
Choice of Champions                                                                      https://choiceofchamps.com/                                                                                                              1-800-868-1077                                                                                                                                    Choice of Champions sponsors supplements every month. Helping the horses stay healthy.
Florida Thoroughbred Breeders and Owners Association
801 SW 60th Ave
Ocala, FL 34474
Phone: 352-629-2160
http://www.ftboa.com/
Sparr Building and Farm Supply                                                                                                13033 NE Jacksonville Road, Sparr, FL, United States, Florida                                                   1-352-622-7063                                                                                                  https://sparrbuilding.com                                                                                                             Sparr Building and Farm Supply helped supply feed for our horses at our Hilcrest location for the past 3 years.
Pyranha                                                                                                                                                     1-800-231-2966                                                                                      https://pyranhalife.com/locator                                                                                                   Pyranha provides fly sheets, fly spray and fly masks!
Turner's Farrier Service                                                                                                                       1-863-801-7118                                            https://www.facebook.com/ChadTurnersFarrierServices
Casey and Son Horseshoeing School                                                                                         14013 E Highway 136, LaFayette, GA, United States, Georgia                                                    1-706-397-8909                                                                                        https://caseyhorseshoeing.com
KC La Pierre                                                                                                                                  Institute of Applied Equine Podiatry
https://www.Appliedequinepodiatry.org
https://www.equinepodiatry.com
Cordwin Tree Service Inc.                                                                                              7900 W. HWY 316, Reddick, FL                                                                                                            352-591-3642                                                                                                    https://www.cordwin.com
Thank you for your support!